Introducing the Bose S1 Pro System
Bose S1 Pro Overview
The ultimate all-in-one system that's ready to perform anywhere, anytime. Sound like a pro. Anywhere with the new Bose® S1 Pro Multi-Position PA system also called the Bose® S1 Pro PA system, also named S1 Pro system as well as S1 Pro. Bose® S1 Pro Multi-Position PA System The system features multiple positions that are design ed to ensure that you always sound your best. So, whether you place the S1 Pro on the floor, on a table, or even mounted on a speaker stand, the system's coverage matches your specific playing application. Additionally, Auto EQ maintains optimum sound in any orientation.
The S1 Pro comes with a full-featured, 3-channel mixer with reverb, tone controls, and line-outs for connecting to other systems. Play music from your mobile device easily using Bluetooth® streaming and get great sound quickly using integrated ToneMatch® processing for microphones and acoustic guitars.
Finally, a small system that delivers on the combination of performance, portability and versatility. The Bose S1 Pro system: a true companion for nearly any event, ready to perform when ever and wherever you need it.
Jirehsupplies / Jireh Music and More retail store is an Authorized Bose Dealer.
Bose S1 Pro All-in-one PA Features:
Lightweight & Portable: Weighing about 15 lbs (6.8kg), the rugged S1 Pro is designed to transport effortlessly from the car to the event.
Versatility meets Simplicity: The S1 Pro comes with a full-featured, 3-channel mixer with reverb and Bluetooth® streaming. Sound great quickly with ToneMatch® processing for microphones and acoustic guitars, while playing music wirelessly using your mobile device. Perform nearly anywhere with the optional rechargeable lithium-ion battery for the ultimate portability.
Impressive size-to-performance ratio: The S1 Pro delivers high-output in a small package, ready to serve as your ultimate all-in-one PA, floor monitor, practice amplifier or primary music system.
Ready to perform. Whenever and wherever you are. With S1 Pro, You Can!
High-output sound from a small, convenient system that is ready to perform whenever and wherever you are.
Lightweight, ultra-portable enclosure is designed to transport effortlessly using the convenient carry-handle.
Onboard 3-channel mixer offers independent ToneMatch®, reverb, and EQ controls on two channels, with a dedicated channel for either wired (3.5 mm) or wireless music sources.
Wireless Bluetooth® streaming from your mobile device, with one-touch pairing.
Multiple positions with Auto EQ ensure that you always sound your best, regardless of placement orientation.
Speaker stand compatible with standard 35 mm pole mounts.
Rechargeable lithium-ion battery allows you to perform anywhere for hours.
Rechargeable S1 Battery Pack (Not included)
Power-up and play your Bose® S1 Pro system for up to 6 hours using the includede S1 Battery Pack. This lithium-ion battery installs easily into the dedicated compartment on your S1 Pro for secure and reliable use. Use the Quick Charge feature to recharge your S1 Battery Pack in a hurry.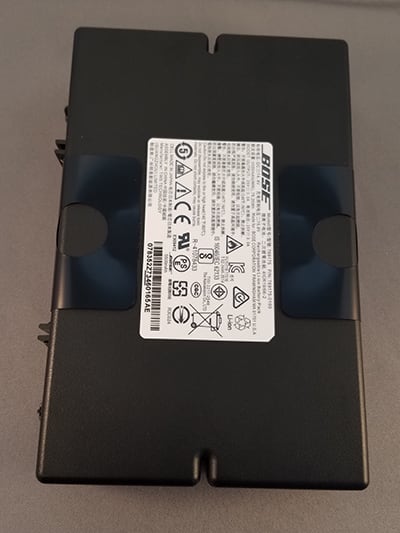 KEY FEATURES
Up to 6 hours of charge time when used at high-output levels for performance use you can count on
Lithium-ion battery technology provides high energy density and full-output use of your S1 Pro system without compromising volume level
Dual charge modes allow the S1 Battery Pack to be trickle-charged while the S1 Pro system is in use with AC power, or when not being used for play, the switchable Quick Charge mode can be used for rapid charging
Permanently install the battery inside the S1 Pro system for safe and easy charging
Connections and Controls
The Bose® S1 Pro control panel provides the necessary connectors, controls and indicators for operation.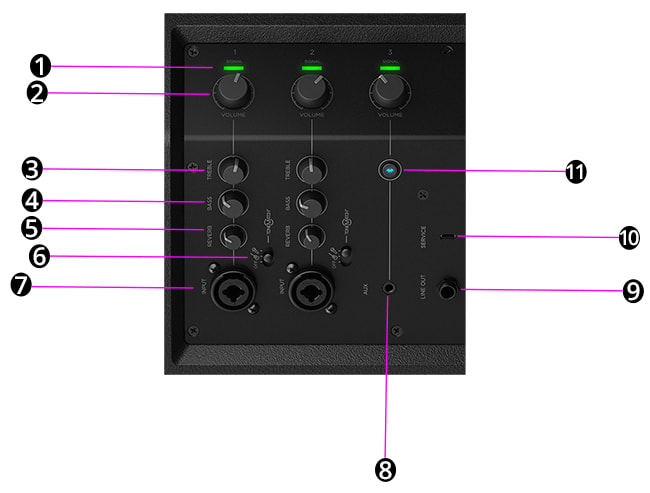 Sound like a pro. Anywhere.
Use Channel 1 and 2 inputs for microphones and musical instruments. Integrated ToneMatch signal processing allows microphones and instruments to sound their best. Use Channel 3 for Bluetooth connectivity and line-level inputs.
SIGNAL/CLIP INDICATOR – Displays the input signal status in color.
* Green Signal present
* Red Signal clipping
Note: Reduce the corresponding volume control to prevent steady red operation
VOLUME CONTROL– Adjust the volume of your microphone, instrument or audio source.
TREBLE CONTROL– Adjust the high-frequency balance of your microphone or instrument.
BASS CONTROL– Adjust the low-frequency balance of your microphone or instrument.
REVERB CONTROL– Adjust the amount of reverb applied to your microphone or instrument.
TONEMATCH SWITCH– Move the switch to the guitar icon or microphone icon position to enable the ToneMatch preset.
SIGNAL INPUT– Analog input for connecting microphone(XLR) and instrument (TS unbalanced) cables.
AUX INPUT– Use a 3.5 mm TRS cable to connect a line-level audio source. Note: This input is muted when Bluetooth connectivity is active.
LINE OUTPUT– LINE OUTPUT Use a 1/4″ TRS cable to connect the line-level output to the AUX input of a second S1 Pro, to create a mono two-loudspeaker setup. Note: Line Out is post mix.
SERVICE PORT– Micro-USB connector for Bose service use only.
BLUETOOTH PAIR BUTTON– Used to set up pairing with Bluetooth-capable devices, such as mobile phones, tablets, and laptops
Bose S1 Pro Unboxing – Video
Introducing the S1 Pro Video
Rechargeable Battery Video
Bose S1 Pro Overview Video
Frequently bought together
Frequently Asked Question
Convenient Gig-Ready Features
The versatile Bose® S1 Pro PA system operates in four unique modes and can be set up differently based on the application.
Elevated Surface – Position the Bose® S1 Pro PA system on a surface. This projects sound clearly and evenly throughout the audience, and ensures that audience members enjoy the full frequency range of the system.
Tilt-Back – For performances where your audience is close to you, tilt the S1 Pro onto its back edge. For best results, the performer should stand or sit to one side of the loudspeaker to avoid blocking sound from the audience.
Monitor Mode – To use the S1 Pro as a personal floor monitor, place it on the ground horizontally, in front of and pointing toward the performer. Tilt the loudspeaker onto its side edge. Rotate the Bose logo counterclockwise to match your chosen mode.
Speaker Stand – Place one or two S1 Pro systems on speaker stands (sold separately) for general-purpose sound reinforcement
Jireh Supplies is proud to be your Authorized Bose Dealer.
Jireh Music and More retail store located in downtown Lawrenceville, Georgia (Across from Aurora Theater in Gwinnett County) is your complete source for Bose F1 Model 812 Flexible Array loudspeakers.
Atlanta, GA
Abbeville, GA
Acworth, GA
Adairsville, GA
Adel, GA
Adrian, GA
Agnes, GA
Ailey, GA
Alamo, GA
Alapaha, GA
Albany, GA
Aline, GA
Allenhurst, GA
Allentown, GA
Alma, GA
Alpharetta, GA
Alston, GA
Altama, GA
Alto, GA
Ambrose, GA
Americus, GA
Amity, GA
Andersonville, GA
Appling, GA
Arabi, GA
Aragon, GA
Arcade, GA
Argyle, GA
Armuchee, GA
Arnoldsville, GA
Ashburn, GA
Athens, GA
Auburn, GA
Augusta, GA
Austell, GA
Avalon, GA
Avera, GA
Avondale Estates, GA
Axson, GA
Baconton, GA
Baldwin, GA
Ball Ground, GA
Barnesville, GA
Barnett, GA
Barney, GA
Barrett Parkway, GA
Bartow, GA
Barwick, GA
Baxley, GA
Bayview, GA
Beallwood, GA
Bellville, GA
Belvedere, GA
Berkeley Lake, GA
Berlin, GA
Berzelia, GA
Bethlehem, GA
Between, GA
Birdsville, GA
Bishop, GA
Blackshear, GA
Blairsville, GA
Bloomingdale, GA
Blue Ridge, GA
Blundale, GA
Blythe, GA
Bogart, GA
Bolingbroke, GA
Bonaire, GA
Boneville, GA
Boston, GA
Bostwick, GA
Bowdon, GA
Bowersville, GA
Bowman, GA
Box Springs, GA
Braselton, GA
Bremen, GA
Briarcliff, GA
Bristol, GA
Brookfield, GA
Brooklet, GA
Brooks, GA
Broxton, GA
Brunswick, GA
Buchanan, GA
Buckhead, GA
Buena Vista, GA
Buford, GA
Butler, GA
Byromville, GA
Byron, GA
Cadwell, GA
Calhoun, GA
Camak, GA
Camilla, GA
Camp Rogers, GA
Campania, GA
Canoochee, GA
Canton, GA
Carlton, GA
Carnesville, GA
Carnigan, GA
Carrollton, GA
Cassville, GA
Cataula, GA
Cave Spring, GA
Cecil, GA
Cedar Crossing, GA
Cedartown, GA
Centerville, GA
Centralhatchee, GA
Chamblee, GA
Chatsworth, GA
Chattahoochee Hills, GA
Chauncey, GA
Cherry Log, GA
Chester, GA
Chestnut Mountain, GA
Chickamauga, GA
Chula, GA
Cisco, GA
Clarkdale, GA
Clarkesville, GA
Clarkston, GA
Claxton, GA
Clermont, GA
Cleveland, GA
Clinchfield, GA
Cloudland, GA
Clyo, GA
Cobb, GA
Cochran, GA
Cogdell, GA
Cohutta, GA
Colbert, GA
College Park, GA
Collins, GA
Cols, GA
Columbus, GA
Comer, GA
Commerce, GA
Concord, GA
Conley, GA
Conyers, GA
Coolidge, GA
Coosa, GA
Cordele, GA
Cornelia, GA
Cotton, GA
Covena, GA
Covington, GA
Crandall, GA
Crawfordville, GA
Crescent, GA
Ctrlhatchee, GA
Culloden, GA
Cumberland, GA
Cumming, GA
Cusseta, GA
Dacula, GA
Dahlonega, GA
Daisy, GA
Dallas, GA
Dalton, GA
Danburg, GA
Danielsville, GA
Danville, GA
Darien, GA
Davisboro, GA
Dawsonville, GA
De Soto, GA
Dearing, GA
Decatur, GA
Dellwood, GA
Demorest, GA
Denmark, GA
Denton, GA
Dewy Rose, GA
Dexter, GA
Dillard, GA
Dixie, GA
Doerun, GA
Donald, GA
Dooling, GA
Doraville, GA
Douglas, GA
Douglasville, GA
Dover, GA
Druid Hills, GA
Dry Branch, GA
Du Pont, GA
Dublin, GA
Dudley, GA
Duluth, GA
Dunaire, GA
Dunwoody, GA
East Dublin, GA
East Ellijay, GA
East Point, GA
Eastanollee, GA
Eastman, GA
Eatonton, GA
Eden, GA
Edge Hill, GA
Elberton, GA
Elim, GA
Elko, GA
Ellabell, GA
Ellaville, GA
Ellenton, GA
Ellenwood, GA
Ellerslie, GA
Ellijay, GA
Ellwood, GA
Embry Hls, GA
Emerson, GA
Emmalane, GA
Empire, GA
Enigma, GA
Epworth, GA
Esom Hill, GA
Eton, GA
Euharlee, GA
Euharlee, GA
Evans, GA
Everett, GA
Excelsior, GA
Experiment, GA
Fairburn, GA
Fairmount, GA
Fargo, GA
Farmington, GA
Fayetteville, GA
Felton, GA
Fitzgerald, GA
Fleming, GA
Flintstone, GA
Flovilla, GA
Flowery Branch, GA
Folkston, GA
Forest Park, GA
Forsyth, GA
Franklin Springs, GA
Franklin, GA
Funston, GA
Gainesville, GA
Garden City, GA
Gardi, GA
Garfield, GA
Gary, GA
Gay, GA
Geneva, GA
Gibson, GA
Girard, GA
Glenn, GA
Glenwood, GA
Glynco, GA
Good Hope, GA
Gordon, GA
Gough, GA
Gracewood, GA
Graham, GA
Grange, GA
Grantville, GA
Gray, GA
Grayson, GA
Graysville, GA
Greensboro, GA
Griffin, GA
Grovania, GA
Grovetown, GA
Guysie, GA
Guyton, GA
Haband, GA
Haddock, GA
Hagan, GA
Hahira, GA
Hamilton, GA
Hampton, GA
Hapeville, GA
Haralson, GA
Hardwick, GA
Harlem, GA
Harrison, GA
Hartsfield, GA
Hartwell, GA
Hawkinsville, GA
Hazlehurst, GA
Helen, GA
Helena, GA
Hephzibah, GA
Herndon, GA
Hiawassee, GA
Higgston, GA
High Shoals, GA
Hillsboro, GA
Hiltonia, GA
Hinesville, GA
Hinsonton, GA
Hiram, GA
Hoboken, GA
Hogansville, GA
Holly Springs, GA
Homeland, GA
Homer, GA
Homerville, GA
Honora, GA
Hortense, GA
Hoschton, GA
Howard, GA
Huber, GA
Hubert, GA
Hull, GA
Ideal, GA
Ila, GA
Indian Springs, GA
Irwinville, GA
Ivanhoe, GA
Ivey, GA
Jackson, GA
Jacksonville, GA
Jasper, GA
Jefferson, GA
Jeffersonville, GA
Jekyll Island, GA
Jenkinsburg, GA
Jersey, GA
Jesup, GA
Jewell, GA
Johns Creek, GA
Jonesboro, GA
Juliette, GA
Junction City, GA
Juniper, GA
Kathleen, GA
Kemp, GA
Kennesaw, GA
Keysville, GA
Kings Bay, GA
Kingsland, GA
Kingston, GA
Kite, GA
Knoxville, GA
La Fayette, GA
Lagrange, GA
Lake City, GA
Lake Park, GA
Lake Spivey, GA
Lakeland, GA
Lakemont, GA
Lavonia, GA
Lawrenceville, GA
Lebanon, GA
Leesburg, GA
Lenox, GA
Leslie, GA
Lexington, GA
Lexsy, GA
Lilburn, GA
Lilly, GA
Lincolnton, GA
Lindale, GA
Lithia Springs, GA
Lithonia, GA
Little Five Points, GA
Lizella, GA
Loco, GA
Locust Grove, GA
Loganville, GA
Lollie, GA
Lookout Mountain, GA
Louisville, GA
Louvale, GA
Lovejoy, GA
Ludowici, GA
Lula, GA
Lumber City, GA
Lumpkin, GA
Luthersville, GA
Lyerly, GA
Lyons, GA
Mableton, GA
Macon, GA
Madison, GA
Madray Springs, GA
Manassas, GA
Manchester, GA
Manor, GA
Mansfield, GA
Marble Hill, GA
Marietta, GA
Marlow, GA
Marshallville, GA
Martin, GA
Martinez, GA
Matthews, GA
Mauk, GA
Maxeys, GA
Maxim, GA
Maysville, GA
Mc Caysville, GA
Mc Rae, GA
Mcdonough, GA
Mcgregor, GA
Mckinnon, GA
Meansville, GA
Meigs, GA
Meldrim, GA
Menlo, GA
Meridian, GA
Mershon, GA
Mesena, GA
Metcalf, GA
Metter, GA
Midland, GA
Midville, GA
Midway, GA
Milan, GA
Milledgeville, GA
Millen, GA
Millwood, GA
Milner, GA
Milton, GA
Mineral Bluff, GA
Mitchell, GA
Modoc, GA
Molena, GA
Monroe, GA
Montezuma, GA
Monticello, GA
Montrose, GA
Moreland, GA
Morganton, GA
Morrow, GA
Morven, GA
Moultrie, GA
Mount Airy, GA
Mount Berry, GA
Mount Vernon, GA
Mount Zion, GA
Mountain City, GA
Mountville, GA
Murrayville, GA
Musella, GA
Mystic, GA
Nahunta, GA
Nashville, GA
Naylor, GA
Nelson, GA
Nevils, GA
New Hope, GA
Newborn, GA
Newington, GA
Newnan, GA
Nicholls, GA
Nicholson, GA
Norcross, GA
North Decatur, GA
Norwood, GA
Nunez, GA
Oak Grove, GA
Oak Park, GA
Oakfield, GA
Oakwood, GA
Ochlocknee, GA
Ocilla, GA
Oconee, GA
Odum, GA
Offerman, GA
Ohoopee, GA
Oliver, GA
Omaha, GA
Orchard Hill, GA
Overlook Sru, GA
Oxford, GA
Palmetto, GA
Patterson, GA
Pavo, GA
Payne City, GA
Peachtree City, GA
Peachtree Corners, GA
Pearson, GA
Pelham, GA
Pembroke, GA
Pendergrass, GA
Perkins, GA
Perry, GA
Pine Grove, GA
Pine Lake, GA
Pine Mountain, GA
Pinehurst, GA
Pineora, GA
Pineview, GA
Pitts, GA
Plainfield, GA
Plains, GA
Plainville, GA
Pooler, GA
Portal, GA
Porterdale, GA
Poulan, GA
Powder Springs, GA
Powersville, GA
Preston, GA
Pridgen, GA
Pulaski, GA
Putney, GA
Quitman, GA
Rabun Gap, GA
Ranger, GA
Ray City, GA
Rayle, GA
Raymond, GA
Rebecca, GA
Red Oak, GA
Redan, GA
Register, GA
Reidsville, GA
Rentz, GA
Resaca, GA
Rest Haven, GA
Rex, GA
Reynolds Plantation, GA
Reynolds, GA
Rhine, GA
Riceboro, GA
Richmond Hill, GA
Riddleville, GA
Rincon, GA
Ringgold, GA
Rising Fawn, GA
Riverside, GA
Roberta, GA
Rochelle, GA
Rock Spring, GA
Rockbridge, GA
Rockingham, GA
Rockledge, GA
Rockmart, GA
Rocky Face, GA
Rocky Ford, GA
Rome, GA
Roopville, GA
Rosier, GA
Rossville, GA
Round Oak, GA
Royston, GA
Rupert, GA
Rutledge, GA
Rydal, GA
Saint George, GA
Saint Marys, GA
Saint Simons Island, GA
Sale City, GA
Sandersville, GA
Sandy Plains, GA
Sandy Springs, GA
Sapelo Island, GA
Sardis, GA
Sargent, GA
Sautee Nacoochee, GA
Savannah, GA
Scarboro, GA
Scotland, GA
Scottdale, GA
Screven, GA
Sea Island, GA
Senoia, GA
Seville, GA
Shady Dale, GA
Shannon, GA
Sharon, GA
Sharpsburg, GA
Shenandoah, GA
Shiloh, GA
Siloam, GA
Silver Creek, GA
Sky Valley, GA
Smarr, GA
Smithville, GA
Smoke Rise, GA
Smyrna, GA
Snapfinger, GA
Snellville, GA
Snipesville, GA
Social Circle, GA
Soperton, GA
Sparks, GA
Springfield, GA
Stapleton, GA
Statenville, GA
Statesboro, GA
Statham, GA
Stephens, GA
Sterling, GA
Stevens Pottery, GA
Stillmore, GA
Stilson, GA
Stockbridge, GA
Stockton, GA
Stone Mountain, GA
Suches, GA
Sugar Hill, GA
Sugar Valley, GA
Summertown, GA
Summerville, GA
Sumner, GA
Sunny Side, GA
Surrency, GA
Suwanee, GA
Swainsboro, GA
Sycamore, GA
Sylvania, GA
Sylvester, GA
Talbotton, GA
Talking Rock, GA
Tallapoosa, GA
Tallulah Falls, GA
Talmo, GA
Tarrytown, GA
Tate, GA
Taylorsville, GA
Tazewell, GA
Temple, GA
Tennga, GA
Tennille, GA
Thalman, GA
The Rock, GA
Thomaston, GA
Thomasville, GA
Thomson, GA
Thunderbolt, GA
Tifton, GA
Tiger, GA
Tignall, GA
Toccoa, GA
Toomsboro, GA
Townsend, GA
Trenton, GA
Trion, GA
Tucker, GA
Tunnel Hill, GA
Turin, GA
Turnerville, GA
Twin City, GA
Ty Ty, GA
Tybee Island, GA
Tyrone, GA
Unadilla, GA
Union City, GA
Union Point, GA
Upatoi, GA
Uvalda, GA
Valdosta, GA
Valona, GA
Varnell, GA
Vernonburg, GA
Vidalia, GA
Vidette, GA
Vienna, GA
Villa Rica, GA
Vinnings, GA
Vista Grove, GA
Waco, GA
Wadley, GA
Waleska, GA
Walnut Grove, GA
Walthourville, GA
Waresboro, GA
Warm Springs, GA
Warner Robins, GA
Warrenton, GA
Warthen, GA
Warwick, GA
Washington, GA
Watkinsville, GA
Waverly Hall, GA
Waverly, GA
Waycross, GA
Waynesboro, GA
Waynesville, GA
Wesley, GA
West Green, GA
West Point, GA
Weston, GA
White Oak, GA
White Plains, GA
White Stone, GA
White, GA
Whitesburg, GA
Wildwood, GA
Wiley, GA
Willacoochee, GA
Williamson, GA
Winder, GA
Winston, GA
Winters Chapel, GA
Winterville, GA
Woodbine, GA
Woodbury, GA
Woodland, GA
Woodstock, GA
Woolsey, GA
Wray, GA
Wrens, GA
Wrightsville, GA
Yatesville, GA
Young Harris, GA
Zebulon, GA
Counties in Georgia
Appling County, Georgia
Atkinson County, Georgia
Bacon County, Georgia
Baker County, Georgia
Baldwin County, Georgia
Banks County, Georgia
Barrow County, Georgia
Bartow County, Georgia
Ben Hill County, Georgia
Berrien County, Georgia
Bibb County, Georgia
Bleckley County, Georgia
Brantley County, Georgia
Brooks County, Georgia
Bryan County, Georgia
Bulloch County, Georgia
Burke County, Georgia
Butts County, Georgia
Calhoun County, Georgia
Camden County, Georgia
Candler County, Georgia
Carroll County, Georgia
Catoosa County, Georgia
Charlton County, Georgia
Chatham County, Georgia
Chattahoochee County, Georgia
Chattooga County, Georgia
Cherokee County, Georgia
Clarke County, Georgia
Clay County, Georgia
Clayton County, Georgia
Clinch County, Georgia
Cobb County, Georgia
Coffee County, Georgia
Colquitt County, Georgia
Columbia County, Georgia
Cook County, Georgia
Coweta County, Georgia
Crawford County, Georgia
Crisp County, Georgia
Dade County, Georgia
Dawson County, Georgia
De Kalb County, Georgia
Decatur County, Georgia
DeKalb County, Georgia
Dodge County, Georgia
Dooly County, Georgia
Dougherty County, Georgia
Douglas County, Georgia
Early County, Georgia
Effingham County, Georgia
Elbert County, Georgia
Emanuel County, Georgia
Evans County, Georgia
Fannin County, Georgia
Fayette County, Georgia
Floyd County, Georgia
Forsyth County, Georgia
Franklin County, Georgia
Fulton County, Georgia
Gilmer County, Georgia
Glascock County, Georgia
Glynn County, Georgia
Gordon County, Georgia
Grady County, Georgia
Greene County, Georgia
Gwinnett County, Georgia
Habersham County, Georgia
Hall County, Georgia
Hancock County, Georgia
Haralson County, Georgia
Harris County, Georgia
Hart County, Georgia
Heard County, Georgia
Henry County, Georgia
Houston County, Georgia
Irwin County, Georgia
Jackson County, Georgia
Jasper County, Georgia
Jeff Davis County, Georgia
Jefferson County, Georgia
Jenkins County, Georgia
Johnson County, Georgia
Jones County, Georgia
Lamar County, Georgia
Lanier County, Georgia
Laurens County, Georgia
Lee County, Georgia
Liberty County, Georgia
Lincoln County, Georgia
Long County, Georgia
Lowndes County, Georgia
Lumpkin County, Georgia
Macon County, Georgia
Madison County, Georgia
Marion County, Georgia
McDuffie County, Georgia
McIntosh County, Georgia
Meriwether County, Georgia
Miller County, Georgia
Mitchell County, Georgia
Monroe County, Georgia
Montgomery County, Georgia
Morgan County, Georgia
Murray County, Georgia
Muscogee County, Georgia
Newton County, Georgia
Oconee County, Georgia
Oglethorpe County, Georgia
Paulding County, Georgia
Peach County, Georgia
Pickens County, Georgia
Pierce County, Georgia
Pike County, Georgia
Polk County, Georgia
Pulaski County, Georgia
Putnam County, Georgia
Quitman County, Georgia
Rabun County, Georgia
Randolph County, Georgia
Richmond County, Georgia
Rockdale County, Georgia
Schley County, Georgia
Screven County, Georgia
Seminole County, Georgia
Spalding County, Georgia
Stephens County, Georgia
Stewart County, Georgia
Sumter County, Georgia
Talbot County, Georgia
Taliaferro County, Georgia
Tattnall County, Georgia
Taylor County, Georgia
Telfair County, Georgia
Terrell County, Georgia
Thomas County, Georgia
Tift County, Georgia
Toombs County, Georgia
Towns County, Georgia
Treutlen County, Georgia
Troup County, Georgia
Turner County, Georgia
Twiggs County, Georgia
Union County, Georgia
Upson County, Georgia
Walker County, Georgia
Walton County, Georgia
Ware County, Georgia
Warren County, Georgia
Washington County, Georgia
Wayne County, Georgia
Wheeler County, Georgia
White County, Georgia
Whitfield County, Georgia
Wilcox County, Georgia
Wilkes County, Georgia
Wilkinson County, Georgia
Worth County, Georgia
Nationally Jireh Supplies and Jireh Music and More ships the Bose S1 loudspeaker to the following states:
ALABAMA
ALASKA
ARIZONA
ARKANSAS
CALIFORNIA
COLORADO
CONNECTICUT
DELAWARE
FLORIDA
Georgia
HAWAII
IDAHO
ILLINOIS
INDIANA
IOWA
KANSAS
KENTUCKY
LOUISIANA
MAINE
MARYLAND
MASSACHUSETTS
MICHIGAN
MINNESOTA
MISSISSIPPI
MISSOURI
MONTANA
NEBRASKA
NEVADA
NEW HAMPSHIRE
NEW JERSEY
NEW MEXICO
NEW YORK
NORTH CAROLINA
NORTH DAKOTA
OHIO
OKLAHOMA
OREGON
PENNSYLVANIA
RHODE ISLAND
SOUTH CAROLINA
SOUTH DAKOTA
TENNESSEE
TEXAS
UTAH
VERMONT
VIRGINIA
WASHINGTON
WEST VIRGINIA
WISCONSIN
WYOMING