Shure SE112-K-BT1 SE112 Wireless Overview
Shure SE112 Wireless Sound Isolating Earphones w/ Bluetooth – Black. The power and fidelity of Shure's SE112 earphones comes with no strings attached in the Shure SE112 Wireless Sound Isolating Earphones with Bluetooth Enabled Communication Cable. Now you can immerse yourself in your music without the tangle of cords, and take calls without pulling your phone out of your pocket or purse. Eight hours of battery life per charge nets you a full day of music and communication or a full week of listening at the gym. And Shure's 37dB ambient noise filters keep conversation and road noise from ruining your experience. Shure's comfortable, contoured earphones are a favorite among Sweetwater customers, and now you can enjoy them untethered with the Shure SE112 Wireless earphones.
Features:
Great sound with deep bass elevates audio performance in a convenient and portable mobile package
Sound Isolating design featuring comfortable sound isolating sleeves blocks up to 37 dB of ambient noise for extended listening, without distractions
Bluetooth 4 pairs with most phones, laptops and tablets, with up to 8 hours of battery life and 30 feet (10 meters) of range
Multi-point pairing enables pairing of up to two devices transitions from the office to on-the-go between multiple sources and media
Control your world at your fingertips three-button remote and mic offers audio for phone calls, voice commands and other voice-activated device features
Ergonomically-optimized earphones designed to rest comfortably in the ear for unmatched comfort and personalization
Wireform, behind-the-ear cable provides customized, stable and secure fit
SE112 Wireless
SE112 Wireless Sound Isolating™ Earphones with Bluetooth® Enabled Communication Cable (SE112-K-BT1)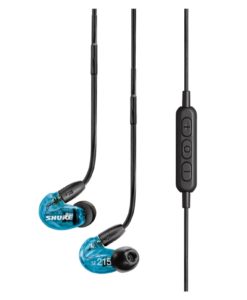 Amazing Shure SE112-K-BT1 Bluetooth Earbuds
Turn your commute into a concert – Shure introduces Wireless Sound Isolating™ Earphones. Designed for music lovers of all kinds, new Shure Wireless Earphones deliver true-to-life audio.
Designed for music lovers of all kinds, new Shure Wireless Earphones deliver true-to-life audio with the freedom of wireless. Ergonomically designed Sound Isolation blocks distractions with maximized comfort and secure fit. Pair with any Bluetooth-enabled device for up to 8 hours of incredibly immersive sound, handsfree device control and voice calls.
Color Black Shure SE112 Wireless Sound Isolating Bluetooth Earphones Features:
Up to 30 ft (10 m) of range and remote + mic hands-free control and functionality
Up to 8 hours of immersive audio on a single charge
Available in black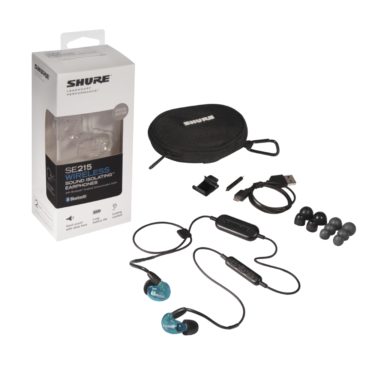 Shure SE112-K-BT1 Wireless Sound Isolating Earphones - Black
Buy with confidence on the SE112 Wireless Earphones from Shure. SE112 Wireless Earphones provide big sound in a portable package, plus the freedom and control of wireless—a perfect balance between affordability and quality. Includes USB charging cable, clothing clip, zippered carrying case, and fit kit with a variety of sleeves.